Subdivision Mosquito Program
Don't let pesky insects steal the pleasure of the outdoors! Eradico's Mosquito Service Program provides season-long protection. Take advantage of the most effective and economical way to reduce the mosquito population in your neighborhood!
Sign up for our Mosquito Subdivision Program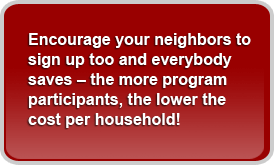 If you're a homeowner in a subdivision or member of a homeowners' association being treated by Eradico Pest Services for mosquitoes in the coming season, you should have received a flyer or email with a password to log in to our sign up area. Please contact us at 888-479-5900 if you have questions.
By signing up you agree to be part of the group and will benefit from our discounted group rates. The seasonal rate will be determined based on the number of program participants, so it's important to sign up early.
Current Customers: If you live in a subdivision that has been treated by Eradico in the past simply click the button below to sign up. (Password required; see above.)
New Customers: If your subdivision is new to our services, the program rate will be determined by the number of homeowners participating in the program. Please sign up by clicking the "Sign Up Now" button below. (Password required; see above.) Once the rate is set, you will be notified of the pre-pay amount.
Payment for our Mosquito Subdivision Program
Pre-payment is required; payments must be received prior to applications beginning to participate in the first treatment. Payment may be made by check (Payable to Eradico Pest Services, and mailed to our Region Support Office at 41169 Vincenti Ct., Novi, MI 48375), or by credit card payment by phone by calling 248-440-7429.
Kind words from a happy customer!
"Eradico has transformed the way we live in the summer!"

Before we discovered your services, we were driven indoors by 4:00 every afternoon because of the ridiculous amount of mosquitoes (we live in a heavily wooded area). Seriously, we even avoided going out to the mailbox to retrieve the mail. Now we can be outside all the time! The only down side is that right before we started with Eradico, my husband constructed a lovely screened-in porch. We hardly ever use it - ha! And I should also mention that your staff (both in the office and in the field) is always friendly and accommodating to our requests. Great company to deal with. Thanks again! - Barbara S.
Contact the Sales Center at our Region Support Office at 888-479-5900 or submit our Request a Free Analysis for more information.
Late signups may receive fewer treatments based on schedule; seasonal program cost will remain the same.