Bed Bug Treatment and Control
Infestations of bed bugs have increased 500% over the last few years. Once thought to be a
thing of the past, these blood-sucking pests are showing an unwelcome resurgence. Eradico
Pest Services professionals are experts at helping to eradicate bed bugs from homes, hotels, apartment communities and college dormitories.
How do you get bed bugs?
In part because of today's transient society, infestations are rapidly spreading via luggage,
airline baggage compartments, cruise ships, hotels (even some of the finest!), on our clothing
and shoes.

Help Prevent Bed Bug infestations
when traveling. Download PDF
How do you get rid of bed bugs?
While there is no "silver bullet" to eradicate bed bugs, Eradico Pest Services offers several effective options in the fight against them, including Pre-Treatment Service and Conventional Service treatments.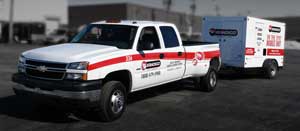 Structural Heat Treatment for bed bugs with our mobile heat treatment units (left) may also be an effective option for your situation, and is an especially good solution for apartment communities, hotels and dormitories.
In addition, we can bring our Portable Heat-Treatment Chamber (below) to your location to provide direct heat to furniture, mattresses, clothing, etc. This effective treatment can help avoid having to discard and replace costly infested items.

Get Professional Advice
An on-site analysis is critical to selecting the right program to fit your needs because each situation is different. Bed bug treatment choice depends on individual goals, budget, time constraints and building structure. Request a Free Analysis

Want to learn more about our Bed Bug Treatment Programs?
Download our flyer for more information on our range of treatment options.
Ready to take action?
Let the experts at Eradico Pest Services help you develop a pro-active plan to control bed bugs!


Call 1-888-479-5900 to speak to a pest control specialist.
Attention Multi-Unit Housing Managers:
Ask about our Bed Bug Control Program Management System
Our easy-to-use program provides tools and materials property managers need to communicate with residents and customers easily and effectively.
We offer Free Bed Bug Educational Seminars too!