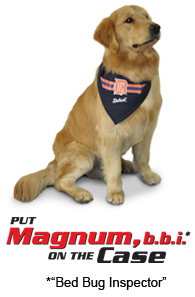 Eradico Pest Services' latest force in our fight against bed bugs: Magnum
Like his namesake, the popular '80s TV character, our
Magnum is a skilled investigator -- he can "sniff out" bed bug infestations in the early stages, when they can be more easily and cost-effectively controlled.
Our K-9 program has proven so effective and popular that we've added two more teams featuring bed bug detection dogs.
Teamwork is Key
According to a New York Times article (March 2010) "Researchers at the University of Florida report that well-trained dogs can detect a single live bug or egg with
96 percent accuracy."
To ensure the success rate of our Certified K-9 Detection Unit, our scent-detection dogs are teamed with a full-time, on-staff handler who has been fully trained in bed bug detection.
How Does It Work?
Our K-9 Unit can detect live bed bugs and viable eggs in upholstered furniture, bedding, luggage, carpets and rugs, heating ducts, outlets, walls and flooring - and do it much more quickly than visual inspection alone.
Our handler gently guides the dog through the area to be inspected. When the dog "alerts," the area is marked and a visual inspection is then made by our certified pest inspector to confirm the presence of bed bugs.
If bed bugs are found, we offer several effective options for eradication and control. We have additional certified back-up teams available for large facilities.
Certification Assures Reliability
Our teams (the handler and the dog) have been trained in bed bug detection by a Certified Dog Trainer with more than 25 years of experience developing working dogs.
To maintain optimum effectiveness, our teams undergo monthly ongoing training with a third party (a former police officer who specializes in K-9 scent detection training).
Our competitive rates are based on the size of the area and its contents.
Call us for an estimate or to schedule an inspection today!